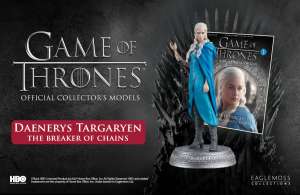 Daenerys Targaryen, Jon Snow, Cersei Lannister, Tyron Lannister și chiar și un White Walker sunt câteva dintre figurinele Game of Thrones pe care Gazeta Sporturilor le va distribui din 27 iulie, săptămânal, cu ziarul. Vor fi 15 figurine pictate manual reprezentând personajele principale ale seriei, fiecare model fiind însoțit de o revistă în limba engleză.
În revistă, colecționarii vor găsi detalii despre modul în care a fost realizată figurina, istoria personajului și rolul său în lumea Game of Thrones.
Primul număr, cel din 27 iulie, îi este dedicat lui Daenerys Targaryen, The Breaker of Chains. După mama dragonilor, seria va aduce un nou personaj, în fiecare joi. Numărul 2 – Jon Snow.
Pachetul revistă plus figurină, colecția originală Game of Thrones, produsă de Eaglemoss, costă 35 de lei.
27 Iulie
Daenerys Targaryen
The breaker of chains
3 August
Jon Snow
The night's watch
10 August
The Hound
Sandor Clegane
17 August
Cersei Lannister
Royal Wedding
24 August
Arya Stark
Water Dancer
31 August
Petyr Baelish
Littlefinger
7 Septembrie
Tyrion Lannister
The battle of the Blackwater
14 Septembrie
Daenerys Targaryen
Mother of Dragon
21 Septembrie
Brienne of Tarth
Oathkeeper
28 Septembrie
Jaime Lannister
The Kingsguard
5 Octombrie
Stannis Baratheon
The King in the Narrow Sea
12 Octombrie
Eddard Stark
Lord of Winterfell
19 Octombrie
Jon Snow
From Winterfeel to Castel Black
26 Octombrie
Tyrion Lannister
Hand of The King
2 Noiembrie
White Walker
Beyond the Wall